About the Board…
The Board of Directors guides and governs the Center, charting its future and securing the resources to transform the Center's vision into reality.
Per to the Center's bylaws, the board will have not less than five (5) nor more than seventeen (17) members. The Center seeks cultural, racial, economic, faith, age, gender and geographic diversity as well as representation from a variety of professional disciplines including accounting, HIV/AIDS, mental health, real estate, communications/public relations, law, faith communities, trans, youth and senior services.
Board members are expected to actively participate in twelve (12) scheduled BOD meetings, an annual retreat and serve one one Center committee.
🔎 To view the Center's current board members, click here.
The Application Process…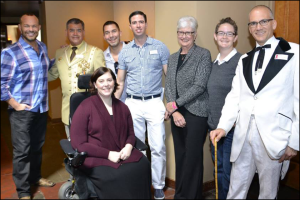 Each fall, the Center announces an open call for applications to fill vacant board seats. Typically, applicants are expected to have spent one to six months familiarizing themselves with the organization, its activities and the board. Interested parties must complete an application (available online).
Qualified applicants participate in an interview and are asked to observe at least one board meeting. Once this process has been completed, a majority vote is required for appointment to the board. Newly appointed board members complete an orientation program and are matched with a mentor.
To apply for the board, contact the board president or complete an application. Any board member may initiate the nomination process by submitting a name and supportive information to the Governance Committee. If a vacancy exists, potential board members must complete an application and interview process. If no vacancy exists, potential applicants may be asked to participate in all or part of nomination process with the knowledge that no openings currently exist and that a nomination cannot move forward until a vacancy occurs.
🔎 To complete a board application, click here.