Overwhelmed? Stressed? Need to Talk?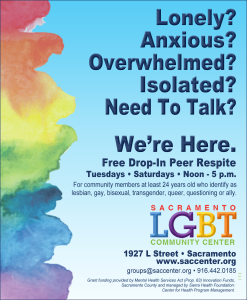 The Center realizes life can get overwhelming for LGBT people and the Lambda Lounge is here to help!
Offering drop-in respite, the Lounge provides a safe place to chill, access resources or just talk to someone for any person 24 years or older who identifies as lesbian, gay, bisexual, transgender or ally. Drop-in is open Tuesdays and Saturdays from noon until 5 p.m. or by appointment. Refreshments, comfy couches and people who care are on hand to help you with any issues.
🔎 To download our program flyer, click here.
✉ E-mail Our Respite Coordinator to learn more.
For those under 24 years of age, our Q-Spot Youth Drop-In Center offers similar services for youth 13-23 years old.
🔎 Click here to learn more about Q-Spot.
This program is funded in part by the Division of Behavioral Health Services through voter approved Proposition 63, Mental Health Services Act (MHSA).