The Perfect Place for Your Next Function…
Thank you for considering the Sacramento LGBT Community Center as the place to hold your meeting or special event. Creating a safe and welcoming space where community members, organizations, and groups can connect is an important part of the work that we do. We are proud that we are able to provide meeting space at low rates as a service to the community. We offer three different sized spaces to rent:
Rental Details…
The Center's Rental Guide & Request Form (download at bottom of this page) describes the policies and procedures related to renting rooms at the Sacramento LGBT Community Center. We hope this document provides all the information you need.
Sacramento LGBT Community Center's regular hours of operation are Monday–Saturday, noon-6 p.m. The Center is available for rental outside regular business hours with pre-arrangement and during regular hours on special request. All users after regular business hours must adhere to the Key/Alarm Agreement (Form LC-001).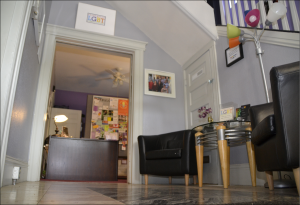 Rental Rates:
Lambda Lounge (Main Floor): 20-50 people

For Profit/Private Party: $50/hour
Non-Profit: $25/hour

Lambda Room (2nd Floor): 12-15 people

For Profit/Private Party: $25/hour
Non-Profit: $20/hour

Q-Spot: 25 people

For Profit/Private Party: $35/hour
Non-Profit: $20/hour

Kitchen Use: $10 per event
Patio: $10 per event
🔎 Click here to download the Center's rental guidelines and agreement.
✉ E-mail Crystal Disho| ☏ (916) 442-0185