Education Is The Key
Creating inclusive workplaces, public accommodations, schools, and social service/health facilities is critical to the Center's vision of a Sacramento in which LGBTQ+ people are universally respected and affirmed. For service providers and community-based organizations, the Center also offers Applied Suicide Intervention Skills Training (ASIST) due to the prevalence of suicide in LGBTQ+ youth.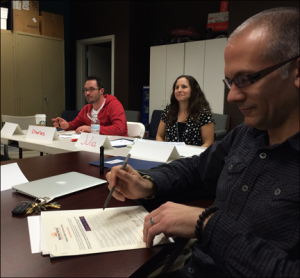 The Center can assist employers, business owners, educators, or care professionals with trainings tailored to meet specific needs, ages, competency levels, and time frames.
For an optimum experience, certain trainings are actually collaborations with community partners to ensure content is developed and presented by by the best knowledge base possible.
Samples of past training topics include:
LGBTQ+ 101
Understanding Sexual Orientation & Gender Identity, A Cultural Responsiveness Training
Being Trans
Gender Socialization
Queer People of Color
Understanding Domestic Violence & Sexual Assault in the LGBTQ+ Community
The Center also can provide speakers for panel discussions through our Queer Voices, an LGBTQ+ speaker's panel.
As the Center views cultural responsiveness trainings key to its mission, fees are intentionally kept low. Pricing varies according to time required, hard costs required (such as handouts), and topic(s) to be covered.
✉ E-mail Rachel  | ☏ (916) 758-8624
Spreading The Word
The Center has an outreach team that travels to resource fairs, conferences, community events, and organizational meetings to talk about the Center, its programs, and upcoming events. The Center can set up a booth, present to an audience, and/or provide informational materials.
Past events have included health fairs, crab feeds, and Aftershock. To accommodate as many requests as possible, please submit requests at least 30 days in advance.
✉ E-mail Rachel | ☏ (916) 758-8624