The Economic Justice Program is a 360-degree workforce program to support the development of participants' skills to obtain and retain employment, learn and develop career goals and help employers in creating safe, inclusive, and affirming work spaces.
The Economic Justice program (EJP) is a unique, collaborative initiative designed to  help create inclusive workplaces and job readiness for the LGBTQ+ community in Sacramento County. By teaming up with Black, Indigenous, Queer, Transgender, People of Color (BIQTPOC) leaders and local businesses EJP will strategically address the barriers LGBTQ+ and people of color face during their journey to becoming employed, in a truly innovative method. EJP seeks to disrupt the vicious impact that racism, homophobia, and transphobia have on social mobility. This program will provide the following services: job referrals and career coaching; navigating being "out" at work or transitioning on the job; resume review and managing references; personal branding; hiring and community events; and legal services.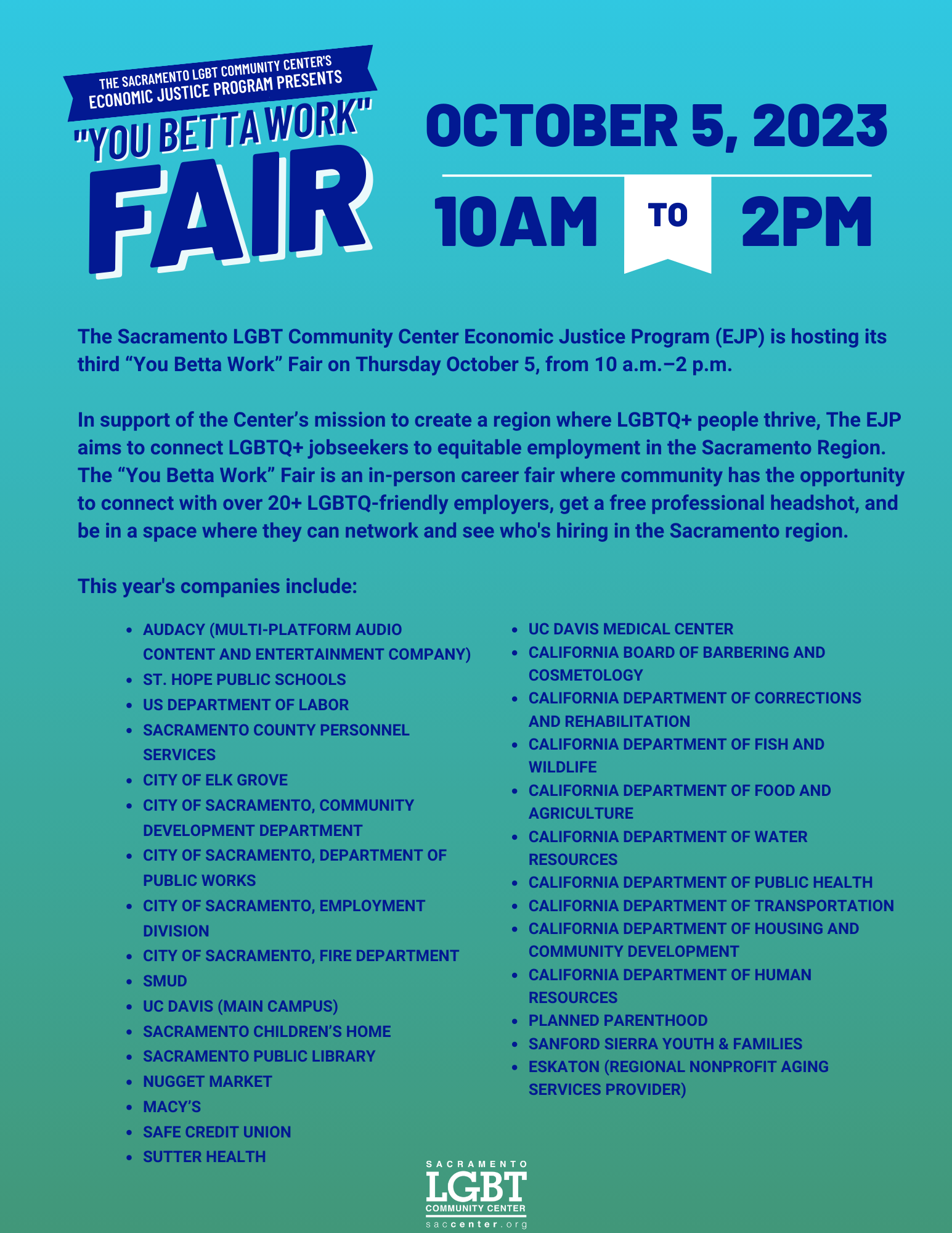 Our career coaching services provide personalized guidance and support to help you achieve your professional goals, whether you're just starting out or looking to make a career change.
We offer comprehensive job search support, including resume review, interview preparation, and job search strategies, to help you land your next job.
Our workshops cover a range of professional development topics, including resume writing, interviewing skills, and networking strategies, to help you advance your career.
Our legal services provide support and advocacy for LGBTQ+ individuals who have experienced discrimination in the workplace, including assistance with filing complaints and navigating the legal system.
Our networking events provide opportunities for LGBTQ+ job seekers and professionals to connect with each other, build relationships, and expand their professional networks.
Networking Opportunities: 
We provide a job posting service to connect LGBTQ+ job seekers with LGBTQ+ friendly employers who are committed to diversity, equity, and inclusion.
Employer Outreach and Training
Our employer outreach and training services help organizations create more LGBTQ+ friendly workplaces by providing education and training on LGBTQ+ issues and best practices.
We offer support and resources for LGBTQ+ friendly employers, including assistance with creating inclusive policies and practices and connecting with LGBTQ+ job seekers.
Are you an employer wishing to participate in our next career fair? Sign up here!
"You Betta Work!" Career Fair
EJP has produced four successful career fairs in the past year, bringing over 50 employers and 250+ job seekers together. Of these, over fifty employment connections were made. The "You Betta Work!" Career Fair was also a place where jobseekers were able to receive professional headshots, on the spot interviews with featured employers, and amazing networking opportunities with employers hiring in the Sacramento region.
Past Employers:
CA. Department of Social Services

ABBTECH Professional resources, Inc

Sacramento Regional Transit District

BAART Programs & MedMark Treatment Centers

California Mobility Center

Summitview Child & Family Services

CommuniCare Health Centers

Univision Television Network

California Rural Legal Assistance, Inc.

California State Board of Optometry

Sacramento Regional Conservation Corps

Sacramento Public Library

Sacramento City Unified School District

Sacramento Natural Foods Co-Op

California High Speed Rail Authority 

Alta California Regional Center

Center of Worker's Rights

Superior Court of California

California Department of Corrections and Rehabilitation
Job Postings & Community Updates