Making Our Voice Heard
We advocate locally and nationally for policies, funding streams, and cultural change that advance the health and wellness of our diverse community. We collaboratively engage in civic leader education, submit letters of support/opposition, and provide expert testimony before legislative bodies. We also lead targeted media and constituent contact campaigns.
Policy Positions & Education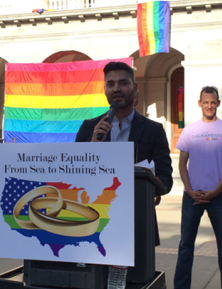 Social change hinges on the ability to change the hearts and minds of a community and its decision makers. When policy changes or disparities arise, the Center takes positions, provides education to opinion leaders, and responds to media inquiries regarding pending administrative and legislative initiatives.
The Center's Governance Committee reviews pending policy initiatives that have direct impact on the LGBTQ+ population and makes recommendations to the Center's board for approval. As a nonprofit organization, the Center can not endorse candidates or engage in direct lobbying, but can conduct, educate, and inform people and decision makers on the impact of pending policy changes or disparities facing LGBTQ+ people and their families.
To request a policy position or to join this team, e-mail the Governance Committee.
Social Action
As a community convener, the Center hosts or participates in community events, rallies and other actions, as well as responding to media inquiries seeking LGBTQ+ reaction to breaking news items.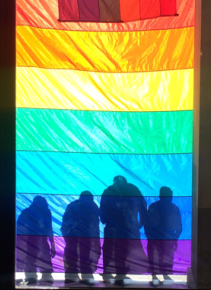 Most recently, the Center was a partner in the community's reaction to the Supreme Court's marriage equality ruling, hosting the viewing party and media conference preceding the rally at the Capital.
The Center has also been a proponent for:
Marriage equality,
Safe schools for transgender students,
Inclusive city-level non-discrimination policies,
Greater access to social services for homeless youth, and
Holding violent criminals accountable for their actions regardless of the sexual orientation or identity of their victim.
To propose a community event or join our advocacy efforts, e-mail our advocacy team.
Alliances & Task Forces
The Center seeks to build ongoing, permanent relationships for the purpose of applying a collective vision for the benefit of the community and improving the overall quality of life for under-served and marginalized populations.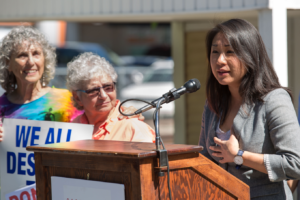 The Sacramento LGBT Community Center also participates in the following coalitions, committees, and task forces:
Building Healthy Communities Youth Engagement Action Team
California LGBT Health and Human Services Network
Californians Allied for Patient Protection Coalition
HIV-Affected Communities Committee
HIV Health Services Planning Council
Sacramento Homeless Youth Task Force
Sacramento Homeless Youth Task Force LGBTQ committee
Sacramento Unified School District LGBT Task Force
Sacramento City Youth Development Campaign Team
LGBTQ Task Force
Mental Health Services Community Planning Workgroup
UC Davis Medical Center LGBTQI Cancer Health Task Force
U.S. Attorney's Office Hate Crimes Task Force
We Help Youth (WHY) Sac
Zero Together Coalition (HIV prevention)
To request Center participation on a task force or questions, e-mail our programs team.