PrEP: The 411
There's a lot of talk about PrEP these days and a diversity of opinions on the topic.
PrEP stands for Pre-Exposure Prophylaxis, a term meaning to prevent or control the spread of infection or disease.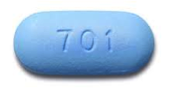 PrEP is an HIV prevention option that involves taking one pill a day to help you from getting HIV if exposed to the virus. In some studies, PrEP reduced HIV infection rates by 92 percent, but it must be taken daily and is even more effective when combined with condoms and other prevention tools.
Here are some basic FAQ and other information to help you determine if PrEP might be right for you.
E-mail Matias| ☏ (916) 442-0185 ext. 109