For more than 40 years, the Sacramento LGBT Community Center has worked to create a region where LGBTQ+ people thrive. Like many of those we serve, the Center dreamt of a new home that could functionally meet growing community needs and welcome everyone under the rainbow flag. After years of strategizing, advocacy, and planning, we've reached a milestone in our organizational history, purchasing a permanent landmark building in Lavender Heights.
Our Permanent Home 1015 20th Street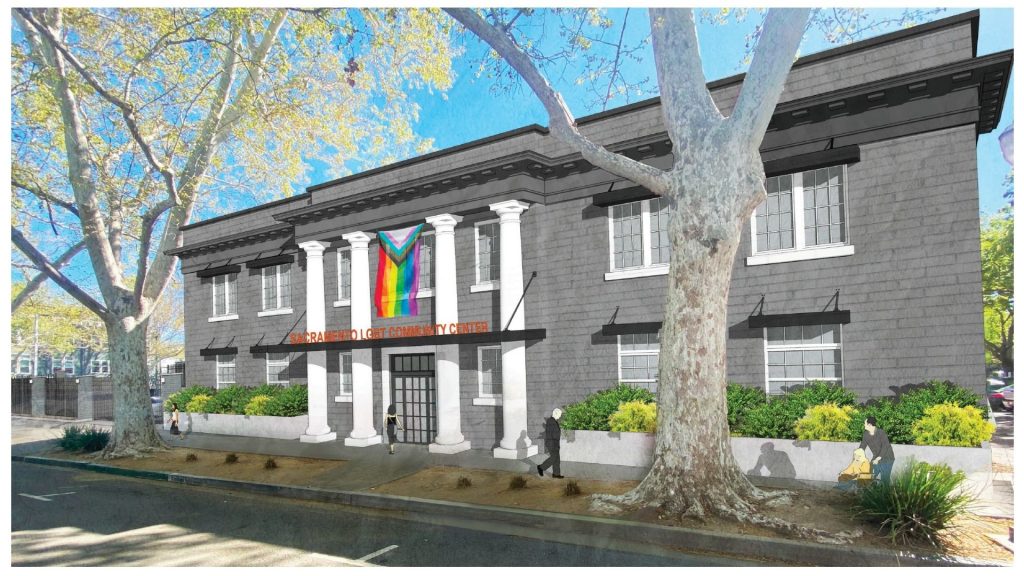 The new Center will be a cultural hub and gathering place for our community. This iconic building in Lavender Heights offers 11,250 square feet of newly renovated, ADA accessible program and office space, and includes 22 on-site parking stalls. This new location increases accessibility and provides ample room to grow with our community.
Make a pledge to the campaign. Donations are tax deductible to the full extent of federal and state laws. Pledges can be paid over 3-5 years and can be made via:
Cash
Real estate
Appreciated securities (including mutual funds)
Paid-off life insurance
Donor Advised Fund (DAF)
Required Minimum Distributions (RMDs)
Other planned gift arrangements
Offer in-kind products or services that may be needed in the renovation process.
Donate now to help establish a permanent home for Sacramento's LGBT Community.
All Gifts over $10,000 will be recognized on the Center's Donor Wall, and

Commemorative Naming opportunities

are available for gifts over $25,000
Campaign Cabinet Co-Chairs:
Ken Plumlee & Allan Robin
Cabinet Members
Patrick Harbison​  David Heitstuman​  Rosanna Herber​  Rachel Iskow​  Janet Lial​  Garry Maisel​  Gail Mancarti  Denny Mangers​  Carlos Marquez​  Todd Koolakian​  Brian McMartin​  Mike Tentis​  Jeff Farley ​Brandon Souza
$1,000,000 or more
Sacramento Progressive Communities Inc
State of California
$500,000 to $999,999
John F. Linker 🕯️
City of Sacramento
$100,000 to $499,999
The California Endowment
SMUD
Matt Donaldson and Steve Kyriakis
Ken B. Plumlee
Samuel Ciricillo and Owen Young
Allan Robin and Larry Johnson
David Gibson and William Ishmael
Garry Maisel and Mark Ulm
Western Health Advantage
Sandra R. Bunting
$50,000 to $99,999
James A. Fitzpatrick, Jr. and Peter J. Walsh
Astacaan-Butler Family
Hunt Drouin and Gary Wisham
Patrick Harbison
Rachel Iskow
Brian McMartin
Josh Nisbet
Steven Walker and Jason Russell
Diane Plumlee and Michael van den Akker
$25,000 to $49,999
David Heitstuman and Spencer Tschida
Natalie and Michelle Fujikawa
Jay Hansen and Jesse Kaplan
Todd Koolakian and Mark Heller
Grace Lawrence, President/CEO GTSTF USA
Frank Mecca
Carlos Marquez III and Michael Subialka
Ryan Wheeler
Janet Lial
Steven Daley, Ph.D.
Anne Fenkner
Humberto Temporini
Jody and Robert Nelsen
David L. Norene
Jason Oclaray and Andrew Huebscher
$5,000 to $24,999
Russ Liebeg
Dave Van Rijn
Richard Stapler
David C. Larson and Bradley M. Simmons
Jeffery Farley and Michael Tentis
Michael A. Nelson
Jodi Hicks and Paul Mitchell
Randall Sater
John Apostolo
Rosanna J. Herber
Josh Jacoby and Chris Mozzoni
Gail Mancarti and Jessica Palmer
Dennis Mangers and Michael Sestak
Tom W. Erickson and James R. Ozanich
George M. Raya
Christiph Rodota and Erik Taylor
Payam Saadai
Brandon T. Souza
Craig Swaim and Ramsey Kubein
Peter Weight
Maria T. Gonzalez
Lucas Family Donor Fund
Lucas Public Affairs
Richard Ericson
Jeremy Nobel
Maureen Gill
Joshua Moon Johnson and Aaron Faucher
Shana Ruggenberg
Dr. L. Steven Winlock and Tim M. Whalen
David Troxel and Ron Spingarn
Carrie Sage and Paul Miller
John Pappas, Jr.