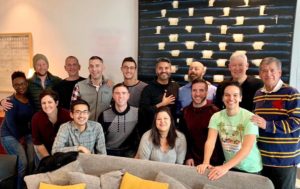 The Board of Directors governs the Sacramento LGBT Community Center. Per the Center's bylaws, the board will not have less than five (5) nor more than twenty-one (21) directors.
The board is growing and currently seeking expertise in the areas of accountancy, philanthropy, commercial architecture and real estate, banking and finance, executive level corporate leadership, criminal law and public policy, government contracts, community engagement, public housing development, human resources, marketing and public relations, data analysis, youth development, workforce development, senior issues, amongst others. All board members are expected to acknowledge and honor the fundamental value and dignity of all individuals, make a personal financial commitment, and dedicate time and professional expertise toward strategic goals.
We are committed to building organizational leadership that is diversely reflective of the community we serve and actively seek applications from people of color, women, transgender and gender non-confirming individuals, lesbians, gay men, bisexual persons, older adults, immigrants, people living with HIV, formerly homelessness persons, and people with disabilities.
For information about the Center's application process for the board, click here.
Board meetings are held monthly and there is an opportunity for public comment at the start of each meeting. Call the Center at (916) 442-0185 x123 for meeting details.