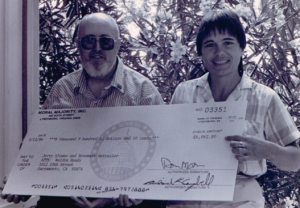 Just nine years after the Stonewall Riots, the Center was originally incorporated as a special assistance program in 1978. The Lambda Community Fund, known today as the Sacramento LGBT Community Center, is Sacramento's oldest non-profit, tax-deductible charity specifically serving the needs of the LGBTQ+ community.
On July 13, 1984, the Rev. Jerry Falwell appeared on television and denied that he ever referred the Metropolitan Community Church (MCC) as vile and satanic and its members "brute beasts" on his Old Time Gospel Hour. Falwell offered $5,000 to anyone who could prove that he had.
The Rev. Jerry Sloan of MCC in Sacramento called Falwell's toll-free number, purchased a copy of the tape as proof, and demanded payment of the $5,000. When Falwell refused, Sloan sued with legal pioneer Rosemary Metrailer, and won. With $5,000 in hand, the Lambda Community Fund was reorganized.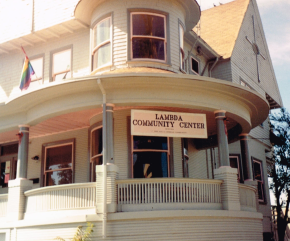 In 1986, the Lambda Community Center was opened to serve the broader cross-section of the lesbian, gay, bisexual, and transgender community by Sloan, the late Timothy Warford and guarantees of Terry Sidie, Marghe Covino and the late Court of the Great Northwest Imperial Empire (CGNIE) Emperor Randy Hartman, to name a few.
Programs of the Lambda Community Center served LGBTQ+ people to lead self-sufficient, healthy, well-adjusted lives, and provided advocacy for issues of importance within the community.
In 2006, the Center's board of directors changed the name to the Sacramento Gay and Lesbian Center with a mission dedicated to serving the lesbian, gay, bisexual and transgender community of the greater Sacramento area and its allies by providing space, diverse programming, advocacy, and cultural activities in an affirming, compassionate, and safe environment.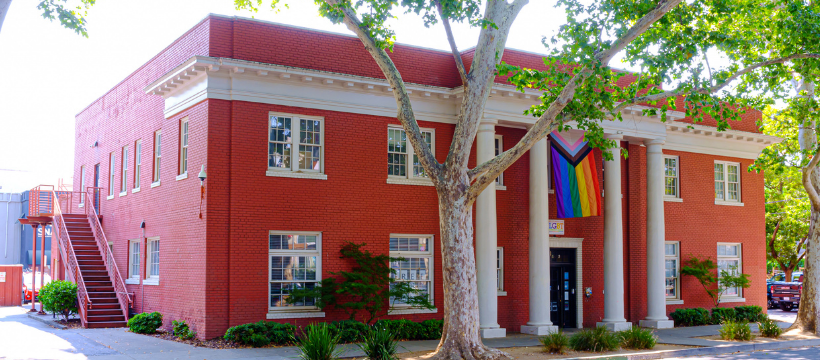 Today's Center
In 2013, the Center began doing business as the Sacramento LGBT Community Center with the expressed purpose of being more inclusive and welcoming to the entire community, not only in name, but also through its diverse array of programming.
The Center refocused its attention on youth outreach, specifically targeting the 11-40% of homeless youth who identify as LGBTQ+ and health outreach in the areas of HIV and suicide prevention.
In 2019, the Center moved into its forever home on 1015 20th street, in the heart of the Lavender Heights district. In 2021 the Center opened its South Sacramento location, the Marsha P. Johnson Center South.
The Center continues to offer peer support groups for a variety of marginalized populations, community resource referrals to meet individual basic needs, education, and training to improve the competency of businesses and organizations to LGBTQ+ issues, numerous artistic expression, and cultural activities that build community, and volunteer opportunities that empower individuals to give back.