The Sacramento LGBT Community Center is a fun, inspiring, and rewarding place to work. Staff and volunteers are united by the Center's mission of creating a region where LGBTQ+ people thrive. To learn more about the Center's mission, vision, and values click here.
We offer a competitive salary and outstanding employee benefits.
Medical

Dental

Vision

Life Insurance

Employee Assistance Program

403(b) retirement plan

Paid Holidays

Paid Sick 

Paid Vacation
The Center has implemented a mandatory COVID-19 vaccination policy as a condition of employment for all new employees who work on the Center's premises, subject to applicable federal, state, and local laws. For more information, please contact rae.billeci@saccenter.org.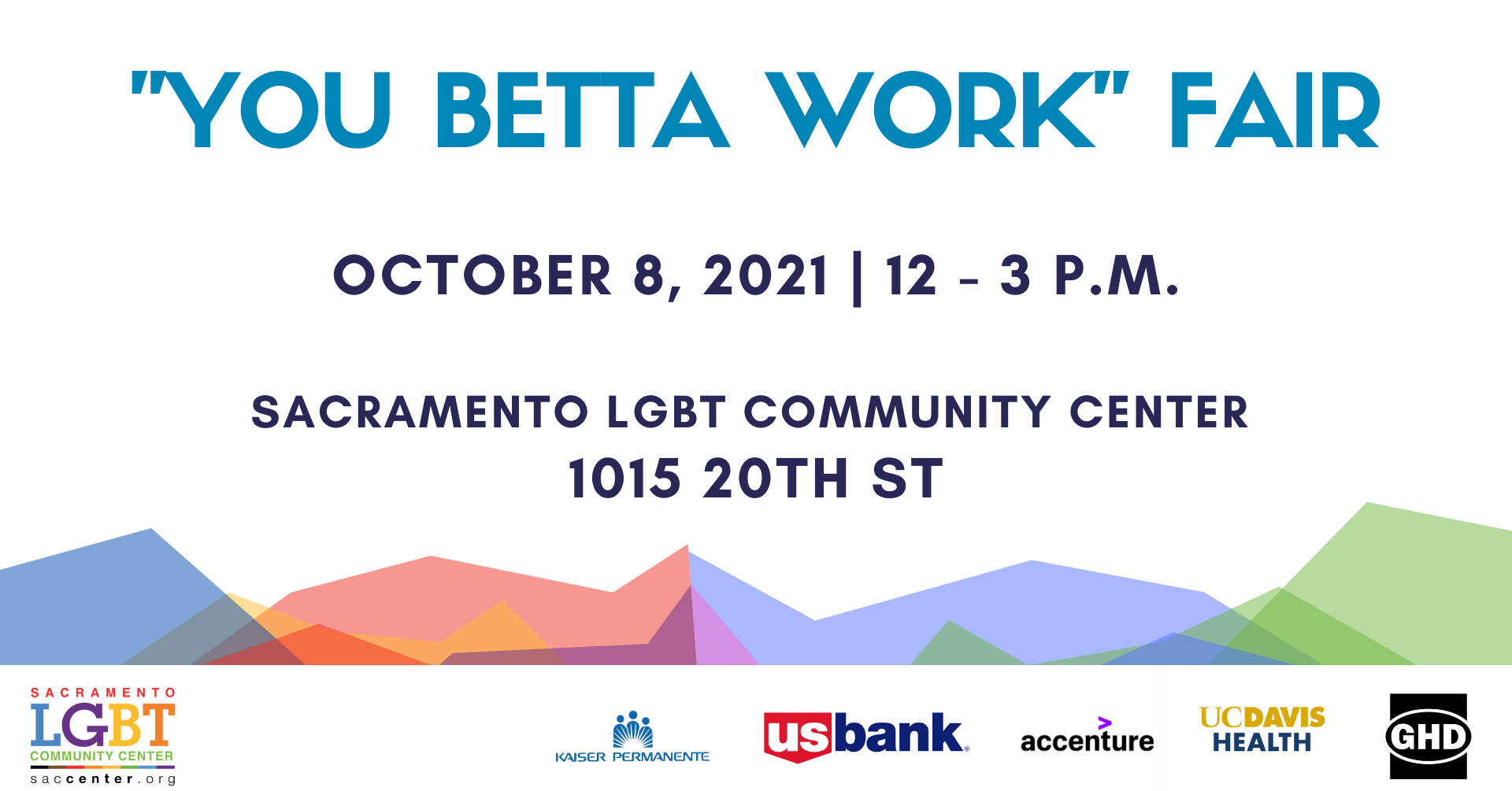 Current employment opportunities
The following are our current open staffing positions, feel free to apply for the opportunity to join our team:
On-Call Youth Advocate
This overnight position is responsible for supporting the implementation of daily programming within the housing continuum. The Overnight On-Call Youth Advocate would support implementation of structured group programming, crisis intervention, and employment/academic readiness services. Low-barrier services are designed to reach disconnected LGBTQ+ transitional aged youth (18-24 years old) as the program is rooted in community building, trauma-informed care and harm reduction models. All program participants have experienced physical and/or sexual abuse, homelessness, engagement with criminal justice and/or foster care systems, substance use/abuse, and/or mental health challenges.  
Mental Health Clinician
The Center is looking for licensed mental health clinicians to serve within the Health Services Department. Primary responsibilities include individual, couple and group counseling services, documenting progress, utilizing short term model in treatment planning to the greatest extent possible and serve on-duty walk-ins, crisis, as well as general information and crisis telephone calls.
Host Case Manager, Host Home
This position is responsible for identifying, screening, training, and supporting community members who volunteer to host 18-24-year-old LGBTQ+ youth experiencing homelessness. This position is responsible facilitating and navigating community partnerships and healthy relationships through outreach and follow up. 
COVID-19 Vaccination Manager
This position is a temporary position, created to manage COVID-19 vaccine and resource navigation, health education, and general outreach to increase COVID-19 vaccination in the Sacramento Region. The Manager will support an outreach campaign by supervising the distribution of basic information about the COVID-19 vaccine, assisting with scheduling community members for COVID-19 vaccination appointments, managing on-site COVID-19 testing, and helping to coordinate COVID-19 resources. The campaign will prioritize LGBTQ+ communities with an emphasis on Black, Indigenous, and other people of color. This position requires flexible hours including weekend and evening events (through June 30, 2022). 
Events Director
This position will have overall strategic and operational responsibility for the development, planning, execution, and evaluation of all Sacramento LGBT Community Center events including Sacramento Pride, Q-Prom, our signature fundraising and programmatic events, some advocacy activities, and coordination of 3rd party fundraising and community engagement events.  The successful candidate will have prior experience producing large-scale events, a track record of engaging diverse community partners, an entrepreneurial spirit, and employ a high level of precision in executing a detail oriented logistical planning.
Chief Development & External Affairs Officer
This position serves as senior level strategic and visionary development leader for our rapidly growing agency. They are responsible for developing the agency's development and external communication strategy and overseeing all of the private fundraising and external community engagement functions of the agency including annual giving and corporate giving, foundation grants, special events, communications and marketing, volunteer management, and planned giving.
All employees, applicants, volunteers, clients and independent contractors ("workers") working with the Center are to be treated with respect and dignity. The Center is committed to providing an atmosphere free of harassment and discrimination.
The Center strongly disapproves of and will not tolerate harassment or discrimination of its employees and volunteers by managers, supervisors, co-workers, independent contractors, vendors, volunteers or members of the public. Similarly, the Center will not tolerate harassment or discrimination by its employees against others with whom the Center has a business, service or professional relationship.
Some examples of conduct that may violate this policy include verbal, physical and visual contact that creates an intimidating, offensive or hostile working environment or that interferes with work performance. Some examples of conduct potentially violating this policy include racial or sexist slurs, ethnic or sexist jokes, posting of offensive statements, posters or cartoons and unwanted touching or blocking of normal movement.
Sexual harassment under this policy includes the making of any unwelcome advances and/or visual, verbal or physical conduct of a sexual nature, as well as offering employment benefits in exchange for sexual favors or threatening reprisals after a negative response to a sexual advance.
The definition of sexual harassment includes many forms of offensive behavior and includes gender-based harassment of a person of the same sex as the harasser. Some examples of behavior that may violate this policy include: requests for sexual favors, demeaning sexual remarks, leering, making sexual gestures, displaying of sexually suggestive objects or pictures, making or using derogatory comments, epithets, slurs, jokes, comments about an individual's body, touching, impeding or blocking movements or any other conduct based upon an individual's sex that creates an atmosphere or environment that interferes with that individual's job performance or is intimidating, hostile or offensive to that individual.
The Federal Equal Employment Opportunity Commission and the California Department of Fair Employment and Housing investigate and prosecute complaints of prohibited harassment in employment. If an employee believe they have been harassed or discriminated against, or that they have been retaliated against for resisting or complaining, they may also file a complaint with the appropriate agency in addition to exhausting the following complaint procedure.
 E-mail David Heitstuman | ☏ (916) 442-0185 ext. 102
Contact a staff supervisor immediately if subjected to or witnessing conduct that violates our Equal Employment Opportunity Policy or our Anti-Harassment and Anti-Discrimination Policy. If not comfortable reporting to either of those individuals, report the observed conduct to the BOD President. A complaint should be specific and should include the names of the individuals involved and the names of any witnesses.
The Center will promptly investigate and attempt to resolve the situation. Every complaint that is reported will be taken seriously and investigated thoroughly. If suspected violations of this policy are not reported, they cannot be investigated. Every worker's cooperation is crucial.
Supervisors in receipt of a complaint will immediately notify the ED with all documentation provided as part of the complaint. An investigator will be selected from the following criteria:
The ED, provided that the ED has no outstanding harassment complaints, and no disciplinary actions involving the accused employee.
A member of the BOD, provided that the BOD member has no history of complaints or disciplinary actions involving the accused employee.
Legal counsel.
The investigator will:
Interview the complainant, collecting dates, times, reactions, and other details.
Interview any witnesses to the act(s) in question.
Interview the accused, after all, documentation and witnesses have been interviewed.
Provide a full report to the ED, supervisor and Executive Committee chair.
If the Center determines this policy has been violated, effective remedial action will be undertaken commensurate with the severity of the offense up to and including termination of employment. The appropriate action also will be taken in an effort to deter any future inappropriate conduct. The Center will not retaliate against any person bringing a good faith complaint of discrimination or harassment or for reporting such misconduct or cooperating in an investigation and will not knowingly permit retaliation by management, employees or your co-workers. Immediately report any instances of suspected retaliation to your direct supervisor or the ED.
In addition to these internal policies and procedures, the State of California Department of Fair Employment and Housing (DFEH) provides additional information regarding the legal remedies and complaint process available through the government agencies. If you believe you have been unlawfully harassed, discriminated or retaliated against for having raised a complaint you may file a complaint or obtain additional information from the DFEH. The phone number may be found in the local phone directory.
 E-mail David Heitstuman | ☏ (916) 442-0185 ext. 102 
The Center is an equal opportunity employer. The Center prohibits unlawful discrimination based on race, color, sex, gender identity or expression, religion, marital status, registered domestic partner status, age, national origin or ancestry, physical or mental disability, medical condition including genetic characteristics or information, sexual orientation, veteran status, or any other characteristic made unlawful by applicable federal, state or local laws. The Center also prohibits unlawful discrimination based on the perception that anyone has any of those characteristics or is associated with a person who has or is perceived as having any of those characteristics.
We will make reasonable accommodations for the known physical or mental limitations of an otherwise qualified individual with a disability who is an applicant or an employee in accordance with applicable law.
Anyone who believes they require a reasonable accommodation to perform the essential functions of a job should contact the appropriate supervisor to request such an accommodation.
Please see the Anti-Harassment and Anti-Discrimination Policy (above). The Center will promptly investigate and attempt to resolve any potential violations of these policies
If the Center determines this policy has been violated, it will take effective remedial action commensurate with the severity of the offense. The appropriate action also will be taken in an effort to deter any future violations of this policy.
The Center will not retaliate against you for bringing a good faith complaint and will not knowingly permit retaliation by management, employees or your co-workers. If you believe that you are being retaliated against, you should immediately notify your supervisor or the Executive Director (ED).
 E-mail David Heitstuman | ☏ (916) 442-0185 ext. 102