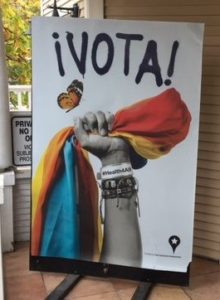 Creating a region where Lesbian, Gay, Bisexual, Transgender, and Queer (LGBTQ+) people thrive means ensuring that all our community members have access to affirming services and support regardless of their native language of immigration status.
Latinas Sin Fronteras (Latinas without Borders) is designed to break down the barriers that stand in the way of community member access to culturally responsive services for Spanish-speaking Latinx and immigrant community members, especially transgender Latinx women.
Community Resource Navigation: Community members are free to stop in to use the restroom, access free WiFi and computers, take a brief rest, get a drink of water. Community resource advocates who care will listen intently and strive to help you find whatever affirming resource you need, whether you are looking for mental and medical health professionals, housing, social services, legal aid, or other support programs.
Drop-in Respite is available twice weekly, where community members are invited to come in, relax, take a break from the stressors of their lives and de-escalate mental health conditions to prevent suicide hospitalization, or incarceration.
Free Individualized Counseling is available for LGBTQ+ victims of crime by appointment.
Support Groups are available for transgender women in English and Spanish
Legal and Immigration Assistance are available through our free legal clinics and referral.
Community events include programs at Sacramento Pride and year-round.
Free sexual health education, HIV testing and PrEP navigation. 
E-mail Jaime| ☏ (916) 442-0185
This program is funded by the California Office of Emergency Services (CalOES) and private community donors.