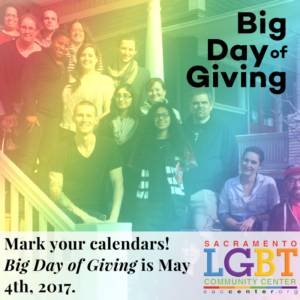 Mark your calendars! Big Day of Giving is May 4th, 2017!
Celebrate the "spirit of giving" in our region by supporting the Sacramento LGBT Community Center! Big Day of Giving is a 24-hour online challenge that brings our non-profit community together to raise funds that strengthen the region we call home.
Your contribution to the Sacramento LGBT Community Center supports the health and wellness of the most marginalized, ensures we can continue as an advocate for equality and justice, and builds a culturally rich LGBTQ community. Be apart of this special day and give $50, $500, or $5,000 in honor of our $50,000 goal!
Every dollar makes a difference. Your gift ensures that:
Homeless and at-risk find solace seven days a week at the Center's Q-Spot drop in center.
Community members unable to visit our Midtown home are connected to resources by phone and through our mobile outreach unit.
Hundreds access mental health respite, HIV testing, and almost 20 peer support groups for youth, elders, people who are coming out, people of color, and those living with HIV/AIDS every month.
Thousands find chosen family where they are loved at Sacramento Pride, Friendsgiving, film screenings, and dozens of other community building events throughout the year.
Continue our vital local services and join us for this day of philanthropy. The Center looks forward to your support on May 4 as we join with hundreds of other nonprofits to make our region the most generous community in the country!
And don't forget to join us May 4th at Drag Queen Bingo! All proceeds from the Drag Queen Bingo will go to the center and will count towards our Big Day of Giving totals!