On April 1, Census Day, we officially kicked off the 2020 Census. In California, hundreds of community organizations led efforts to get the word out and encourage everyone to complete the Census. In our county, the Sacramento LGBT Community Center has developed some creative ways to connect with our communities during the shelter in place order by sharing various social media campaigns, detailed emails targeted to the Census, and promoting the #CensusChallenge on social media where we enccourage users to get their friends to take the Census.
As of April 13, 2020 the self-response rate for Sacramento County is at 54.2! How do we know? The U.S. Census Bureau has developed a Response Rate Map. The map lets you see in real-time what percentage of people have self-responded in each state, county, and census tract. The map is a power visualization where we are succeeding in a complete count and where we need to direct more effort and resources to help ensure everyone participates in the 2020 Census. It is a transparent and easy-to-use tool to help us to support our communities achieve a complete count.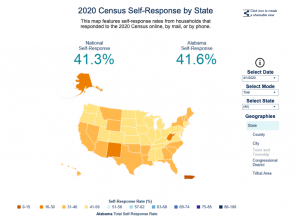 Due to the shelter in place order, the U.S. Census Bureau released an official update with plans to extend the census completion Self-Response Period starting now from March 12, 2020 through October 30, 2020. Click here to view detailed operational updates. While today some communities have a low response rate, those numbers can change tomorrow as a result of more outreach.  We have the power to get our communities counted!  So, go online, call by phone, or send in your questionnaire by mail to complete the census today. Then, join the effort to spread the word and invite others to participate. More people counted means more resources will be available in your community for your benefit! Responding is easy and confidential!
For more information about the 2020 Census go to 2020census.gov.