By: Holly Guzman (she/her/hers), Contributing Writer & Editor/Data Research Intern at the Center
Happy National Womxn's History Month! 
**Using 'womxn'- instead of woman/en- is an purposeful act of highlighting female and feminine sovereignty separate from man/men. It's a work of third-wave feminisms, and is a unique feature in unifying womxn while removing the place of man in their identity.
Being a womxn** is an existence of infinite directions and experiences. Whether you were born a womxn, identify as a womxn, transitioned into a womxn, or exist as a variation of any of those experiences, we want to celebrate you. Regardless of whether or not you are a womxn, womxn presenting, or womxn identifying, we hope you join us!
We have many womxn to thank in our lives: birth givers, mothers both biological and otherwise, matriarchs, best friends, essential workers, siblings, role models. The list is endless. Womxnhood is a matter of spirit, of life, of diligence, of body and mind. It encapsulates more than the heart can hold, and the eye can see– and many womxn have certainly not received the praise and recognition they deserve. 
March became the National Womxn's History Month, as per the petitions of the National Womxn's History Project in 1986. Womxn have been leading advocacy efforts for decades that reach far beyond Womxn's Month. In the twentieth century womxn lead groups were advocating for legislative change in all areas of personal freedoms: food, safety, reproductive rights, health, and human rights for all. 
A few womxn to highlight, especially because of their work and advocacy for LGBTQA+ rights:
Del Martin and Phyllis Lyon: Pioneers of Lebsian Activism
The founders of Daughters of Bilitis (DOB), the first lesbian organization in the United States. They were also the first lesbian couple to marry when same-sex marriage licenses were distrubuted.
Marsha P. Johnson: "Mother of Drag"
A black transgender drag queen who had been a leading LGBTQ+ activist, including the Stonewall Riots of 1969. Throughout her life she contributed to gay liberation movements, AIDS organizations, and cofounded Street Transvestite Action Revolutionaries (STAR) with Sylvia Rivera. 
Brenda Howard: "Mother of PRIDE"
A bisexual woman activist who is widely regarded in LGBTQA+ circles as a founder of the first Pride Parade in New York City. She was one of the first few to popularize what we understand as "pride".
Eve K. Sedgwick: Matriarch of queer theory
A pioneer of academic understanding in what it means to be queer and fluid. Her work Epistomology of the Closet examines how queerness exists outside homo/hetero, and should not be confined to gendered terms or binary thought.
Naturally, there are far more womxn worth mentioning than there is space to write, or time to read. Womxn's activisms and advocacy have paved the way for our freedoms, and are the creators and sustainers of life. Protecting and promoting womxn is vital for a healthy community, and we want to remind all to not only celebrate womxn, but support their businesses, appreciate the day-to-day efforts, and see them as the queens they truly are.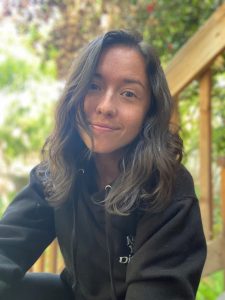 Holly Guzman- a soon to be graduate of UC Davis in Community and Regional Development
with a minor in Womxn's Studies- joins us as a member of the LGBT Center as a writer, editor, and data research intern. Having been raised in a multicultural home as a first-generation American, the natural rhythm of her upbringing aided in her praise of diversity, acceptance, and unity. Driven by a desire to serve international communities, she found herself moving from Southern California to India, Mexico, Spain, and South Africa. However, her heart remained in California, as did her desire to give back to Sacramento- the place she now calls home.
Holly is a lover of houseplants and hip-hop, a panderer of books, and a consumer of sunlight.
She is also an advocate of freedom, student of development, and activist of feminisms and POC. Holly is ready to provide what she can to the Center, and hopes to utilize her experiences in a manner that will benefit the greater community.