Mission…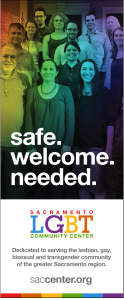 The Sacramento LGBT Community Center creates events, programs and pathways to services that help lesbian, gay, bisexual and transgender people feel welcome, needed and safe. We envision a Sacramento region where sexual orientation, and gender identity and expression are recognized as a spectrum of valued personal characteristics, universally respected and affirmed.
Vision…
To be recognized for our excellence and our commitment to the LGBT community of the greater Sacramento region by developing and sustaining quality, innovative programs and services that:
Support, strengthen and champion this diverse community;

Expand community outreach and engagement; and

Maintain and enhance superior professional staffing and valued board governance.
Values…
Collaborate internally with our employees, volunteers and donors and externally with our community partners and clients

Advocate with a diverse, inclusive and proactive manner on behalf of under served populations locally and globally

Innovate, create new ideas and take risks that lead to positive change

Respond to changing community needs

Provide educational and economic empowerment that improves the quality of life for the LGBT individuals and families and develops future leaders

Improve the health and wellness of the LGBT community through culturally competent access to resources and information

Operate with trust and integrity in our employees and volunteers, transparency in our operations and the privacy of our clients and donors
🔎 Download our general interest card.
🔎 Learn about the Center's history.
🔎 Meet the Center's Board of Directors.
🔎? Meet the Center's staff & volunteer leadership.
🔎 View the Center's financial information.
🔎 Check out the Center's accomplishments.