Mission…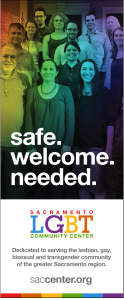 The Sacramento LGBT Community Center creates events, programs and pathways to services that help lesbian, gay, bisexual and transgender people feel welcome, needed and safe. We envision a Sacramento region where sexual orientation, and gender identity and expression are recognized as a spectrum of valued personal characteristics, universally respected and affirmed.
Vision…
To be recognized for our excellence and our commitment to the LGBT community of the greater Sacramento region by developing and sustaining quality, innovative programs and services that:
Support, strengthen and champion this diverse community;

Expand community outreach and engagement; and

Maintain and enhance superior professional staffing and valued board governance.
Values…