Wednesday, June 29, 2016
Capitol Mall, Sacramento, CA
VIP Reception – 5:30-6:30 p.m.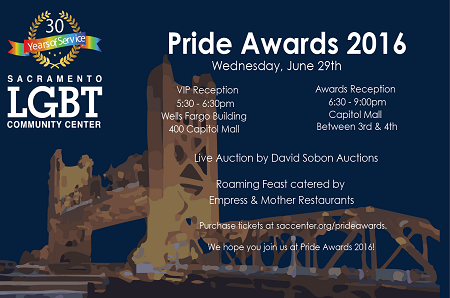 Pride Awards – 6:30-10:00 p.m.
VIP reception at the Wells Fargo building with a hosted bar and appetizers by Il Fornaio
Live Auction by David Sobon Auctions & Events
Roaming feast by Empress Tavern and Mother restaurants
It was 30 years ago that bold visionaries first created a haven where LGBT people could build community, find affirmation and lead self-sufficient, healthy, well-adjusted lives. Although the landscape for LGBT people has altered significantly, the Center's role as a community cornerstone has not wavered, thanks to dedicated, tireless champions whose bold leadership and behind-the-scenes activism has transformed our community.
Now, 30 years later, the Center is a thriving force of dedicated, passionate staff and volunteers that receives almost 250 youth visits each week, distribution of thousands of sexual health and education materials each year, community groups that support seniors, people who are coming out and those living with HIV/AIDS, respite for those experiencing mental health crisis and LGBT-affirming referrals.
The Pride Awards annually recognizes individuals and organizations whose compassion, innovation, generosity and community service create a safer, welcoming, collaborative, just community. Award recipients demonstrate their pride through both their work and in the way they live their lives every day, continuing the legacy of the Lambda Community Center opened in 1986 by Jerry Sloan and the late Timothy Warford, with the help and guarantees of Terry Sidie, Marghe Covino, Court of the Great Northwest Imperial Empire (CGNIE) Emperor Randy Hartman and others to serve the broader cross-section of the LGBT community.
The 2016 Pride Awards will take place on the iconic Capitol Mall, the same place where Sacramento Pride has its festival. This is a first for this type of event on Capitol Mall and we couldn't be more excited to be able to host the Pride Awards there!
✉ E-mail Kelli Hannaford | ☏ (916) 443-3855
⇒ Interested in becoming a sponsor of Pride Awards? Download the sponsor packet here!
Thank you to all Pride Awards sponsors
Q: How do I nominate someone?
A: A link will be provided on this page to tell us why you think they should receive a Pride Award and provide some contact information so that we can be in touch with them about their nomination.
Nominations are now live so you may nominate someone you know now.
Q: Can I nominate myself?
A: No. Nominations are closed and you would have needed to talk to your friends and family about the contest and ask them to nominate you if you would like. Because we would like to hear about your community service and leadership from another person, you cannot nominate yourself.
Q: Can I nominate multiple people?
A: Yes. You can nominate as many people as you like. Start nominating today.

Q: What kind of person should be nominated?
A: Anyone who exemplifies compassion, innovation, generosity, and community service help create a safer, more welcoming, collaborative, socially just, culturally rich, and stigma free LGBT community would make a good nominee. They may serve in an organizational leadership position or they may fly under the radar helping individuals in need. They may be a long time advocate or mentor, or they may be inspiring creativity and innovative thought and action on emerging issues. It is important that they be affecting positive change for people in the LGBT community. Current Sacramento LGBT Community Center employees, contractors and board members are not eligible to receive awards.
Q: Do nominees have to be LGBTQ?
A: No, nominees do not have to be LGBTQ. Many allies to our community have made significant contributions and we welcome their nominations. We welcome nominees across the spectrum of age, race, sexual orientation, gender identity, gender expression, geography, income, and abilities.
Q: What is the deadline for nominations?
A: The nomination period will close 5 p.m. June 6, 2016.
Q: What will happen after someone is nominated?
A: A confirmation e-mail to the addresses listed on the nomination form will be sent to both the nominator and the nominee containing a short questionnaire for the nominee to complete. The nominee had until June 8, 2016 to return their responses in order to be considered for an award.
Q: Can I make changes to the nomination once it is submitted?
A: No. Please submit your final nomination thoughts for consideration and take care to provide accurate contact information both for yourself and the nominee.
Q: What if I was nominated, but do not want to be a considered for an award?
A: While we hope you will let us recognize your achievements, we are sensitive to the fact that some community leaders shy away from the spotlight. You will only be considered as an official contestant once you return the questionnaire. If you do not wish to be recognized, simply send an email to PrideAwards@saccenter.org and let us know or do not complete the nominee questionnaire.
Q: Can I submit other supporting documentation (awards, certificates, etc.)?
A: No. Due to the high volume of applications we receive, we do not accept additional supporting documentation beyond what is included in your questionnaire. The selection committee will contact you if clarification or additional information is needed.
Q: Can I make changes to my questionnaire once submitted?
A: No. Please submit your final responses to the selection committee.
Q: What is the selection process and how do I know if I won?
A: The Pride Awards Selection Committee will review the responses and nomination information for every contestant who returned a questionnaire. Winners will be selected and announced online a few weeks before the event.
Q: Can I be disqualified from receiving an award?
A: Yes. If we deem your behavior to be unethical we reserve the right to exclude contestants. Also, current Sacramento LGBT Community Center employees, contractors and Board members are not eligible to receive an award.
Q: What happens if I am selected to receive an award?
A: You will receive a Pride Award, have wonderful things said about you at the event, and receive published recognition in Outword Magazine and on our website.
Q: Do I have to be present at the Pride Awards event to win?
A: No. We certainly hope you will join us for a lovely evening at Capitol Mall and give us the opportunity to recognize your accomplishments, but we will be sure to keep your award safe until arrangements can be made to deliver it to you. If you are selected as a finalist, but know you cannot be present at the event we ask you to kindly let us know by emailing PrideAwards@saccenter.org as soon as possible.
Q: Do I have to be a financial contributor to the Sacramento LGBT Community Center?
A: No. This community wide contest is for everyone. If you would like to become a contributor of the Sacramento LGBT Community Center please visit www.saccenter.org/donate.
Q: Whom can I contact if I have more questions?
A: You can email us at PrideAwards@saccenter.org or call David.Heitstuman at (916) 442-0185 ext.102.