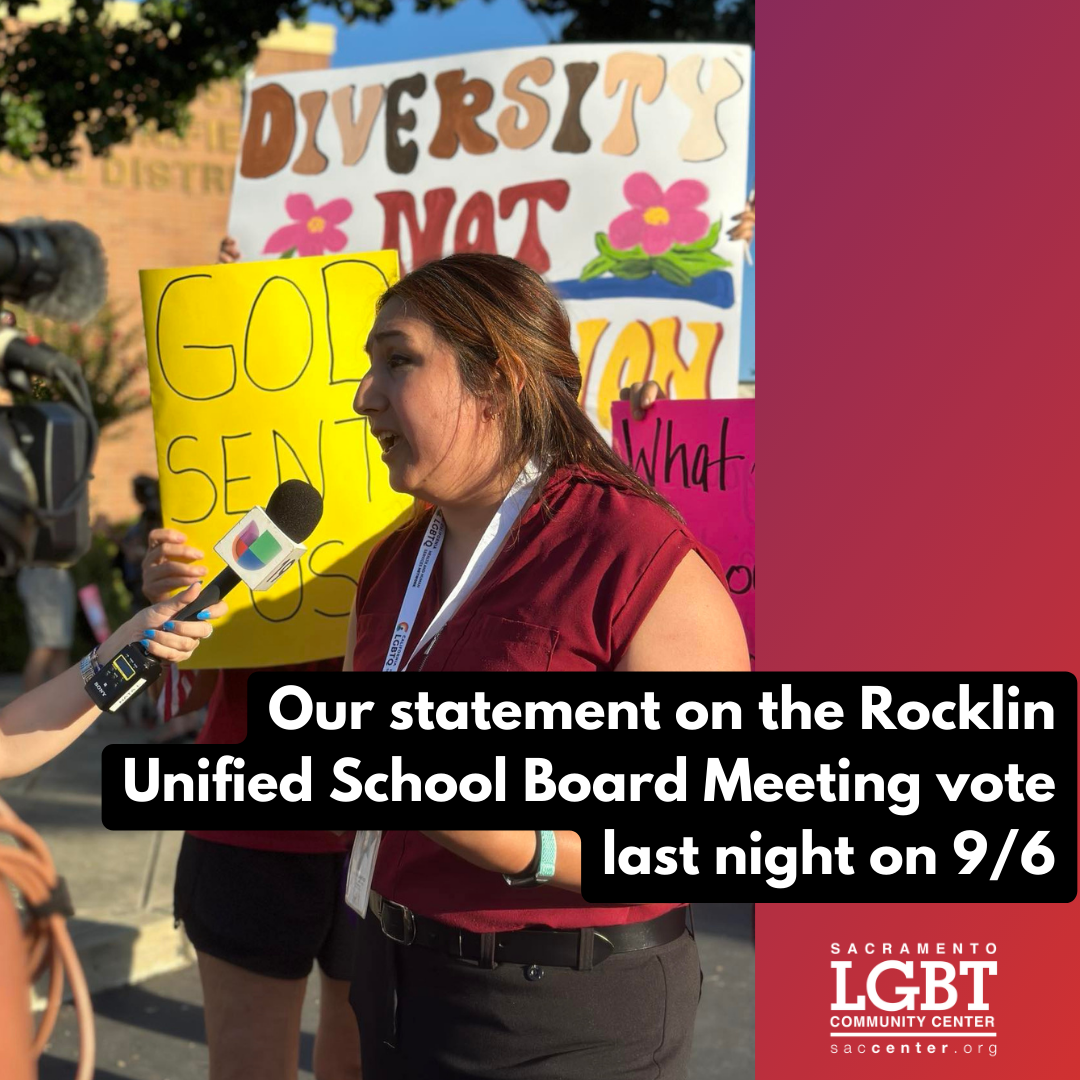 Our statement on the Rocklin Unified School District Board Meeting
For months now, far-right attacks on school boards, education, and LGBTQ+ youth have been surging. What began with the highly prejudiced 'Don't Say Gay' bill in Florida has now escalated into a broader assault on the LGBTQ+ community, extending across California including the Sacramento region.
Just last night, the Rocklin Unified School District Board of Education voted 4-1 voted to mandate that school staff to inform parents or guardians when a student uses a name, pronoun, restroom, or facilities that do not align with the record of their birth-assigned sex. This policy paints a target on the back of transgender and nonbinary youth, by requiring schools to out them to parents without knowing whether the child's home will be safe. A similar policy was adopted in Chino Hills and other communities in California over the past few weeks despite laws that protect the safety and privacy of students.
This policy is discrimination against transgender and gender nonconforming students, infringing upon their civil rights and potentially harming LGBTQ+ youth who may not have supportive families at home. It contradicts California's existing laws aimed at safeguarding marginalized individuals in public institutions. Policies that force disclosure to parents put students in jeopardy of parental rejection, homelessness, and even physical and emotional abuse.
According to a recent National Institutes of Health study, 73% of transgender adolescents have experienced psychological abuse, and 39% have faced physical abuse, often at the hands of un-affirming parents. Forcing disclosure before a child is ready only heightens the risk of harm.
This could have severe consequences for LGBTQ+ youth without supportive families, further isolating them and potentially exacerbating their mental health and well-being. The number of Two Spirit and anti-LGBTQ+ hate crime events reported in the four-county Sacramento area nearly doubled in 2022 compared to 2021. The overall number of hate crimes in the region increased by nearly 50%.
Local anti-LGBTQ+ policies are spreading across our region, with school districts in Placer and El Dorado Counties intent on passing similar measures in the coming weeks. The Republican Party and right-wing organizations' designated by the Southern Poverty Law Center as extremist are pushing these efforts to legislate against transgender individuals and consolidate political influence at the local level.
At the Sacramento LGBT Community Center, we want youth in our community to know that if their school or home aren't safe, the Center will always provide a safe haven. We will continue our relentless advocacy for the rights of the most vulnerable and marginalized groups and remain committed to creating a region where all LGBTQ+ people can thrive.
You can help in the following ways:
1. Donate to the Landing Spot in Placer, which supports LGBTQ+ youth in Placer County who will be impacted by this policy: https://bit.ly/461zw6J
2. Donate to the Center to support our advocacy work: https://saccenter.org/donate
3. Stay engaged on our social media channels and reading your email for the next battle against hate and extremism. Follow us on IG @saclgbtcenter & TikTok @saclgbtcenter