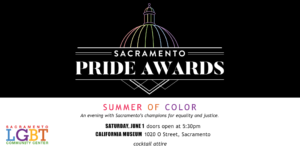 What is better than a gala? A gala with our newest Lip Sync class! 
Thirty-four years ago, bold visionaries created a haven where LGBTQ people could build community, find safety and affirmation, and lead healthy lives. The Sacramento LGBT Community Center continues that work today and proudly honors leaders whose compassion, innovation, and generosity create a region where LGBTQ people thrive.  Join us for our annual Pride Awards Gala to celebrate their work and get a first look at our new Lip Sync class as they battle it out to raise funds for our critical services!
It's bound to be a colorful night at the museum! Save the date for Saturday, June 1st and prepare for a formal evening at the CA Museum.  We will provide a delicious three course meal, a VIP reception with passed hors' d'eouvres, an open bar, and a program you won't want to miss!
Want an even sweeter deal? Buy your tickets in the month of March and receive our limited-time, early bird discount of 20% off. When checking out, just remember to use the code: PA20
You must be 21+ with a valid ID to consume alcohol.
If you have questions, please  e-mail Tyler Bertao.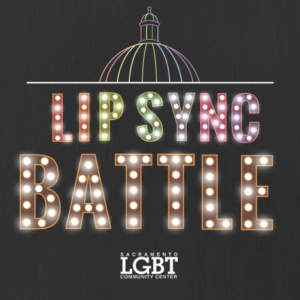 The Sacramento LGBT Community Center WANTS YOU for our upcoming Lip Sync Battle. We can't wait to introduce our 2019 class to the Sacramento Region. Apply today before the deadline closes on May 1st, 2019!
Introduce yourselves to our region's champions of equality and justice at the Pride Awards Gala on June 1, 2019 and then take the stage at Sacramento Pride on June 8, 2019 to battle it out while raising funds for the Center. Win our epic battle and become a Grand Marshal at the SacPride March on June 9, 2019! Want to support a team? Click here.