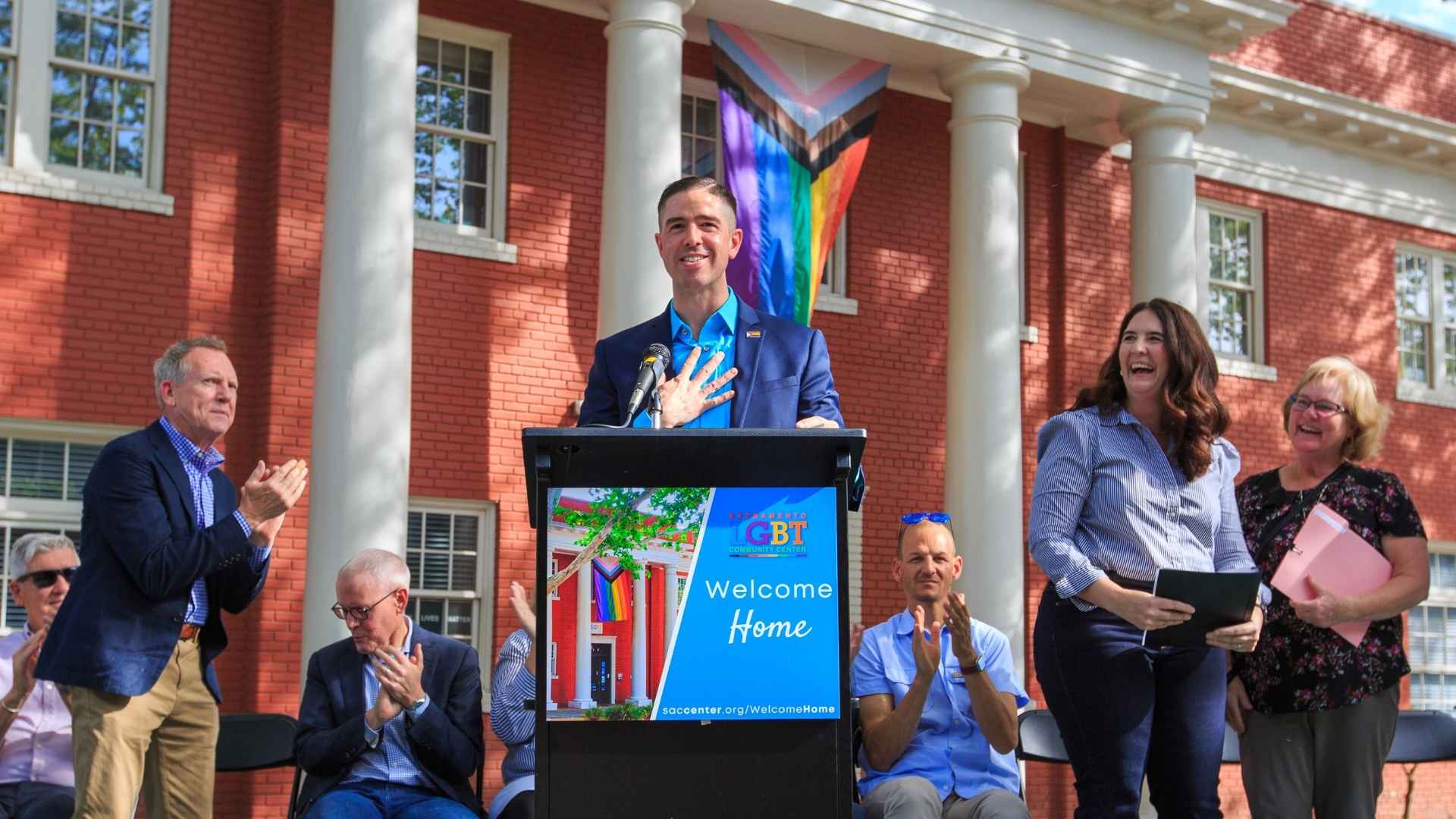 Sacramento LGBT Community Center Launches Campaign for a Permanent Home

The Sacramento LGBT Community Center (the Center) formally launched its Welcome Home Campaign supporting the purchase and renovation of its permanent home for the LGBTQ+ community in the heart of Sacramento's Lavender Heights. As of the launch date on March 26, the Center had secured $5.25 million (87.5%) of its $6 million campaign goal and is asking for the community's support to close the remaining gap.
Center leadership, community leaders, and political leaders gathered on 20th street in front of the Center and gave remarks about the work the Center is doing for the community and how its new building will increase the number served and help further the Center's mission of creating a region where LGBTQ+ people can thrive.
"This campaign is about more than buying a building," says David Heitstuman, CEO of the Center. "It is about creating a permanent place that our community can call home, increasing accessibility, and expanding capacity to serve more LGBTQ+ people."
The Welcome Home Campaign launch also revealed three generous public contributions; the first was a $1 million check from the State of California presented by Assemblymember Kevin McCarty and Senator Dr. Richard Pan, the second was a $1.3 million gift from Sacramento Progressive Communities in memory of Mark Whisler, and Sutter Medical Center CEO Rachel Mckinney announced a generous $500,000 matching gift challenge to inspire community support.
The Center purchased the Lavender Heights District building at the end of 2019 with the help of a grant from the City of Sacramento. It simultaneously quietly began securing public and private funding to pay off the mortgage and renovate the building.
The Center released a video recording of the launch that can be found via this link, https://youtu.be/CY9PvhVAWTs, featuring remarks from:
Carl Colegrove, Sacramento LGBT Community Center Board President
David Heitstuman, Sacramento LGBT Community Center CEO
Ken Plumlee and Allan Robin, Welcome Home Campaign Co-Chairs
Angel Bernardino, Sacramento LGBT Community Center
The Honorable Kevin McCarty, California State Assemblymember
The Honorable Dr. Richard Pan, California State Senator
The Honorable Darrell Steinberg, City of Sacramento Mayor
Patti Harmon, Sacramento Progressive Communities, Inc.
Rosanna Herber, SMUD Board Director
Garry Maisel, Western Health Advantage CEO
Rachel Mckinney, Sutter Medical Center, Sacramento CEO
For those interested in contributing to the Center's Welcome Home Campaign, they can visit saccenter.org/welcomehome or email david.heitstuman@saccenter.org for more info.
For photos of, and more information about, the Center's Welcome Home Campaign launch, please reach out to the Center's Communication and Marketing Manager, Jason Alviar, at (707) 372-8765 or Jason.alviar@saccenter.org.