The Gender Health Center (GHC) and the Sacramento LGBT Community Center (The Center) launched a joint fundraising campaign to create an LGBTQ+ Disaster Relief Fund that will provide direct assistance to trans, queer, and unhoused people for unforeseen expenses related to the COVID-19 pandemic. The most marginalized in the LGBTQ+ community including people of color, undocumented, and unhoused people have long faced difficult challenges and their struggle just to survive has been exacerbated by the stay-at-home order.  In many cases, the COVID-19 pandemic has pushed them over the edge and into severe economic distress.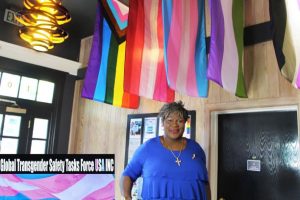 LGBT Center board member and CEO of the Global Transgender Task Force, Grace F. Lawrence has offered a $5000 matching gift for the Disaster Relief Fund. "As the capital city of California, Sacramento is leading the way in diversity, inclusion, and unity. As the CEO of the Global Transgender Safety Tasks Force, I can confidently say the LGBT community takes care of our own in Sacramento," said Grace Felicia Lawrence, CEO and Founder, Global Transgender Safety Tasks Force. "To kick off the Queer and Trans Relief Fund, the Global Transgender Safety Tasks Force proudly donates $5,000!"
Both GHC and the Center have adapted to provide continuous service through this health emergency and have formed a sustainable partnership with the creation of this new fund to uplift their community and the most marginalized within it. In collaboration, both non-profits will promote this grassroots community fundraiser and distribute funds to the most affected community members in the Sacramento region.
Trans, POC, undocumented, and unhoused people have historically faced the most barriers accessing services and care. Systemic racism, transphobia, xenophobia, stigmas, and a lack of visibility too often lead to discrimination and the perpetuation of health disparities including higher rates of tobacco use, HIV incidence, and cancer diagnosis, as well as a history of barriers to care, all of which leave LGBTQ Californians with increased risk factors and vulnerabilities to COVID-19.  This increased vulnerability and the disproportionate economic impact on LGBTQ+ populations has not been part of the national relief funding conversations, leaving local LGBTQ+ nonprofits to prioritize raising local funding to meet the basic needs of those most impacted by this crisis including rent and utility assistance, meals, medication, safety gear, and other emergent needs.
The disaster relief fundraiser launched on Wednesday, May 13 and the application for assistance will be open from May 18-June 1. The link to the application will be shared on both organizations' social media platforms @GenderHealthSac and @SacLGBTcenter or by calling either organization for application assistance by phone. Distributions will be made on a rolling basis through June 15 or until all funds have been depleted. Payments may be picked up or mailed to recipients. The Gender Health Center can be reached at (916) 455-2391 or at 2020 29th St #201, Sacramento, CA 95817. The Sacramento LGBT Community Center can be reached at (916) 442-0185 or at 1015 20th Street Sacramento, CA 95811.