Sacramento LGBT Community Center's most influential founder, Jerry Sloan, passes away
Jerry Sloan, one of the Sacramento LGBT Community Center's most Influential founders, passed away Monday, November 15.
Most famously, Jerry is known for his successful 1984 lawsuit for breach of an oral contract against the late televangelist Reverend Jerry Falwell who reneged on a promise he made on live television to pay Sloan $5000 if he produced an audio tape of Falwell making derogatory remarks about the Universal Fellowship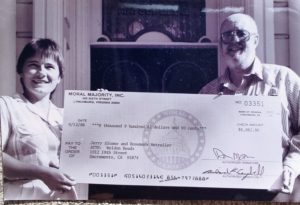 of Metropolitan Community Churches (a Christian church founded in 1968 and the communicants are mostly gay, lesbian, bisexual and transgender). In 1986 he used funds from the settlement to fund the opening of the first Lambda Community Center which eventually would become the Sacramento LGBT Community Center known today.
Jerry, originally from Kansas City, MO, was a resident of Sacramento since 1980. Jerry was a gay activist since the time he came out in 1960. Marching in countless marches, confronted foes of justice and the LGBTQ+ Community face to face, and participated in a hunger strike on the steps of the Federal Building in Ft. Worth seeking Justice for the Gay Community of Texas.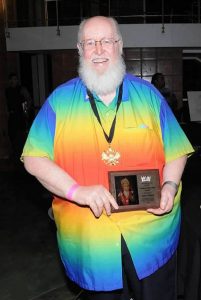 Jerry's works, comments and research have been cited in the Sacramento Bee, Sacramento Union, Sacramento News & Review, San Francisco Chronicle, San Francisco Examiner, Los Angeles Times, Los Angeles Weekly, Orange County Register, San Diego Tribune, San Christi Mercury-News, Contra Costa Times, Orange County Weekly, Wichita Eagle, Kansas City Star, the BBC and Advocate, Rolling Stones, People, Time, and U. S. News & World Report magazines and has had numerous Television and radio interviews. In 1998 the Advocate magazine selected him as one of 200 outstanding gay Americans, and for Sacramento Pride in 2016 he was appointed as Community Grand Marshall.
"Jerry will be remembered as generous, influential, and a tenacious activist in Sacramento's LGBTQ+ community," said David Heitstuman, CEO of the Sacramento LGBT Community Center. "He held nothing back, making sure you knew what he believed, demanding equal treatment under the law, and just as importantly, treating people with dignity and respect in daily life. His contributions and legacy is a testament to how far Sacramento's LGBTQ+ community has come. Jerry embodied the spirit of the movement and will be missed."
The Center and those who loved and knew Jerry most are working to plan a celebration of his life and legacy to take place in the new year. For more information please reach out to the Center's Marketing and Communications Manager, Jason Alviar at Jason.alviar@saccenter.org or by calling (916) 442-0185.