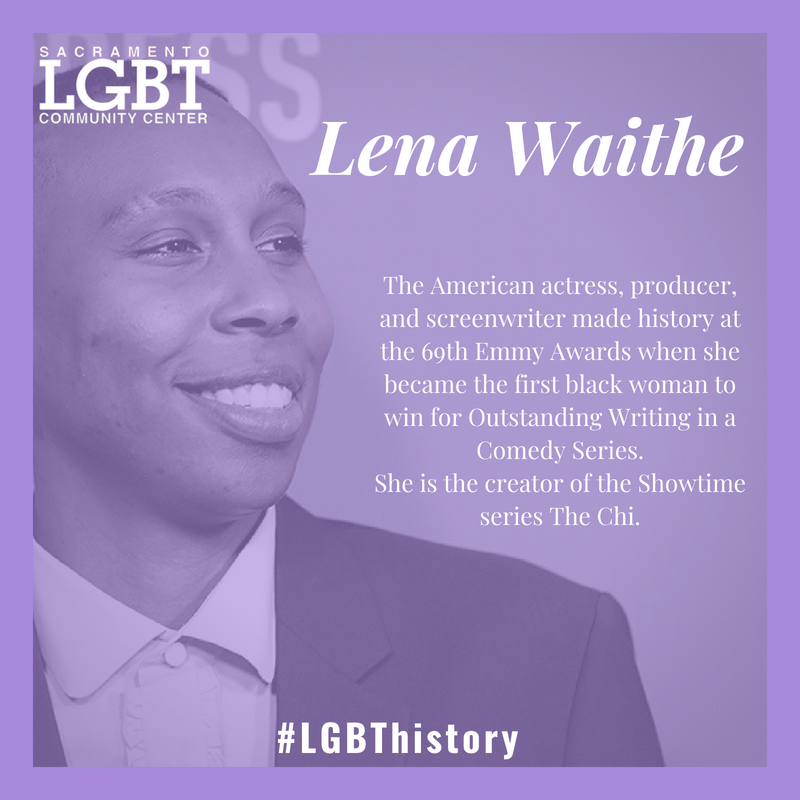 Meet More LGBT Historical Figures
LGBT History Month is a month-long annual observance of lesbian, gay, bisexual and transgender history, and the history of the gay rights and related civil rights movements. LGBT History Month originated in the United States, and was first celebrated in 1994, making this year the 24th year running.
Our education system is usually who we defer to when it comes to teaching our youth about historical figures. But with schools, textbooks and historians often whitewashing, straight-washing and otherwise ignoring the accomplishments of those outside the straight, white, cis, male category, it is time for us to make our history known. So, each day this month we will highlight a queer icon from the past and present that we should all know. Here are the first five icons for LGBT History Month. [For more icons everyone should know head over to LGBT History Month.]
To see the first 5 icons we highlighted, click here!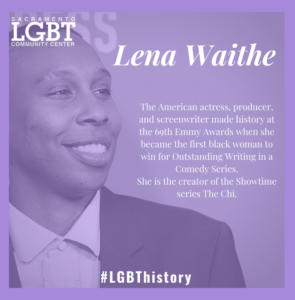 Lena Waithe:
(born May 17, 1984) Lena Waithe is an actress, producer, and screenwriter most well-known for co-writing and acting in the Netflix series Master of None. Waithe made history at the 69th annual Primetime Emmy Awards when she won Outstanding Writing for a Comedy Series for her work on Master of None, becoming the first black woman to do so. The "Thanksgiving" episode for which she won the Emmy was partially based on her personal experience coming out to her mother.
She is also the creator of the Showtime series The Chi. Waithe was born in Chicago, Illinois. Waithe secured various acting and writing roles in Hollywood before she became a producer on the 2014 satirical comedy film Dear White People. In 2014, Variety named Waithe as one of its "10 Comedians to Watch".
Waithe was cast in Master of None after meeting creator and lead actor Aziz Ansari who, with Alan Yang, had originally written Denise as a straight, white woman with the potential, according to Waithe, to evolve into one of the main character's love interests, but was rewritten to more closely reflect her lesbian identity.
In her Emmy speech, she sent a special message to her LGBTQIA (Lesbian, Gay, Bisexual, Transgender, Queer, Intersex, and Asexual) family discussing how "The things that make us different—those are our superpowers." She ended her speech by recognizing her journey as a minority saying "thank you for embracing a little Indian boy from South Carolina and a little queer black girl from the South Side of Chicago.
Alexya Salvador:
Alexya Salvador is a trans woman in Brazil, where violence against LGBTQ people has reached an all-time high.
Salvador calls herself the "first transgender shepherd of Latin America," and, with other trans pastors from around the world, held a groundbreaking LGBTQ-friendly mass in Cuba last year. Salvador is a mother of two, including a trans daughter, and is the first trans person to adopt a child in Brazil.
This year she joins a record number of transgender candidates on the ballot in Brazil's October elections. Religious since she was a child, Salvador will now try to win a state congressional seat under the PSOL (Socialism and Liberty Party), a far-left Brazilian political party.
Audre Lorde:
(born February 18, 1934 – November 17, 1992) Audre Lorde was an American writer, feminist, womanist, librarian, and civil rights activist. As a poet, she is best known for technical mastery and emotional expression, as well as her poems that express anger and outrage at civil and social injustices she observed throughout her life. Her poems and prose largely deal with issues related to civil rights, feminism, and the exploration of black female identity.
In relation to non-intersectional feminism in the United States, Lorde famously said, "Those of us who stand outside the circle of this society's definition of acceptable women; those of us who have been forged in the crucibles of difference – those of us who are poor, who are lesbians, who are Black, who are older – know that survival is not an academic skill. It is learning how to take our differences and make them strengths. For the master's tools will never dismantle the master's house. They may allow us temporarily to beat him at his own game, but they will never enable us to bring about genuine change. And this fact is only threatening to those women who still define the master's house as their only source of support."
Lorde was born in New York City to Caribbean immigrants. Shegrew up hearing her mother's stories about the West Indies. At the age of four, she learned to talk while she learned to read, and her mother taught her to write at around the same time. She wrote her first poem when she was in the eighth grade.
In 1981, Lorde was among the founders of the Women's Coalition of St. Croix, an organization dedicated to assisting women who have survived sexual abuse and intimate partner violence (IPV). In the late 1980s, she also helped establish Sisterhood in Support of Sisters (SISA) in South Africa to benefit black women who were affected by apartheid and other forms of injustice.
In 1985, Audre Lorde was a part of a delegation of black women writers who had been invited to Cuba. The trip was sponsored by The Black Scholar and the Union of Cuban Writers. She embraced the shared sisterhood as black women writers. They visited Cuban poets Nancy Morejon and Nicolas Guillen. They discussed whether the Cuban revolution had truly changed racism and the status of lesbians and gays there.
Cecilia Chung:
Cecilia Chung is a civil rights leader and activist for LGBT rights, HIV/AIDS awareness, health advocacy and social justice. Born in Hong Kong in 1965 and later immigrated to California in the mid 80s. Afterwards she spent a few years working as a court interpreter in Santa Clara County, and as a well-paid sales trainer at a financial company.
Cecilia has spent much of her adult life advocating for health related issues affecting the LGBT community. This has included working as a HIV test counselor at UCSF AIDS Health Project, HIV Program Coordinator at API American Health Forum and as Deputy Director at the Transgender Law Center. Additionally, Cecilia is the first transgender woman and first Asian to be elected to lead the Board of Directors of the San Francisco Lesbian, Gay, Bisexual, and Transgender Pride Celebration, and the first transgender woman as well as the first person living openly with HIV to Chair the San Francisco Human Rights Commission.
Cecilia founded San Francisco Transgender Advocacy and Mentorship (SF TEAM) to provide events for the transgender community through the San Francisco LGBT Community Center. She was also one of the founders of the annual Trans March.
In 2013, Cecilia made headlines by making San Francisco the first city in the country to pay for gender reassignment surgery for uninsured transgender patients through her appointment to the Health Commission by Mayor Edward Lee. Through her appointment Cecilia was also able to provide training to San Francisco Department of Public Health staff members around transgender issues called "Transgender 101".
Currently, Cecilia serves on the Presidential Advisory Council on HIV/AIDS, the current chair of US PLHIV Caucus and is also the Senior Director of Strategic Projects at the Transgender Law Center.
Heather Purser:
Heather Purser is a LGBT advocate, diver, and member of the Squamish tribe in Seattle, Washington. Purser is known for pioneering same-sex marriage rights for her tribe, making the Squamish tribe the second Native American tribe to amend their laws to recognize same-sex marriage, the first being the Oregon Coquille tribe.
While growing up Purser faced discrimination over her pale skin and red hair, which caused some Native Americans to distance themselves from her and call her names. This led to Purser dropping out of Haskell Indian Nations University, an all Native American school, over claims that other students had beaten her in her dorm room and that the university had dropped their inquiry into the assault. Purser claims that the school's administrators pressed her to leave the school in favor of "a school where there were more people like me." She eventually transferred to the Western Washington University in Bellingham, where she gained more self-confidence as a lesbian indigenous woman.
After finishing college Purser became a diver for her tribe's seafood business, "Squamish Seafood" in Puget Sound. Purser first identified as lesbian when she was seven but was not open about her sexuality until she was sixteen, when her non-Native American mother found Purser's journal, which contained lesbian romantic fiction, and the book Annie on my Mind.
Around 2009 Purser began approaching her tribal leaders to ask them about recognizing same sex marriage, making her the first to do so within her tribe. She did not seek assistance for her efforts, as Purser worried that others were unconcerned with same-sex marriage rights and would not be interested in helping her. In March 2011 Purser attended a tribal meeting where approximately 300 of her fellow tribes people were in attendance to again ask for recognition of same-sex marriage. Her request was met with an "enthusiastic yes", which led to tribe officials unanimously voting to legally recognize same-sex marriage in August 2011. For her efforts Purser was recognized by Seattle mayor Michael McGinn during the city's annual Human Rights day celebration on February 16, 2012 and a month prior Washington state Governor Christine Gregoire heralded Purser as a role model and inspiration.
Ifti Nasim:
(1946 – July 22, 2011) Ifti Nasim was a gay Pakistani American poet. Having moved to the United States to escape persecution for his sexual orientation, he became known locally for establishing Sangat, an organization to support LGBT south-Asian youths, and internationally for publishing Narman, a poetry collection that was the first open expression of homosexual themes in the Urdu language.
Nasim was inducted into the Chicago Gay and Lesbian Hall of Fame in 1996. Nasim was born in Faisalabad, Pakistan (then called Lyallpur) shortly before independence, a middle child in a large family. As a teenager he felt ostracized and alone, and was unable to live as openly gay; at the age of 21 he emigrated from Pakistan to the US, inspired in part by an article in Life magazine that he recalls describing the US as "the place for gays to be in." Several of his siblings later followed him to the US, and he eventually naturalized as a US citizen.
Frida Kahlo:
(6 July 1907 – 13 July 1954) Frida Kahlo de Rivera was a Mexican artist who painted many portraits, self-portraits, and works inspired by the nature and artifacts of Mexico. Her paintings often had strong autobiographical elements and mixed realism with fantasy. In her work and personal life, Kahlo was known to blur gender norms, sexual norms and engage in sexual relationship with both men and women.
As a child, she was disabled by polio and later in her youth, a traffic accident at age eighteen caused lifelong pain and medical problems. During her recovery, she returned to her childhood hobby of art with the idea of becoming an artist.
Kahlo's interests in politics and art led to the next stage of her life. In 1927, she joined the Mexican Communist Party, through which she met celebrated muralist Diego Rivera, whom she married in 1928. The relationship was volatile and included a year-long divorce; both had extramarital affairs.
Kahlo spent the late 1920s and early 1930s traveling in Mexico and the United States with Rivera. During this time, she developed her own style as an artist, drew her main inspiration from Mexican folk culture, and painted mostly small self-portraits which mixed elements from pre-Columbian and Catholic mythology.
She became not only a recognized figure in art history, but also regarded as an icon for Chicanos, the Feminism movement, and the LGBTQ movement. Kahlo's work has been celebrated internationally as emblematic of Mexican national and Indigenous traditions, and by feminists for what is seen as its uncompromising depiction of the female experience and form.
Harvey Milk:
(May 22, 1930 – November 27, 1978) Harvey Bernard Milk was an American politician and the first openly gay elected official in the history of California, where he was elected to the San Francisco Board of Supervisors. Although he was the most pro-LGBT politician in the United States at the time, politics and activism were not his early interests; he was neither open about his sexuality nor civically active until he was 40, after his experiences in the counterculture movement of the 1960s.
In 1972, Milk moved from New York City to the Castro District of San Francisco amid a migration of gay and bisexual men. He took advantage of the growing political and economic power of the neighborhood to promote his interests and unsuccessfully ran three times for political office. Milk's theatrical campaigns earned him increasing popularity, and in 1977 he won a seat as a city supervisor. His election was made possible by a key component of a shift in San Francisco politics.
Milk served almost eleven months in office and was responsible for passing a stringent gay rights ordinance for San Francisco. On November 27, 1978, Milk and Mayor George Moscone were assassinated by Dan White, who was another city supervisor. White had recently resigned to pursue a private business enterprise, but that endeavor eventually failed and he sought to get his old job back. White was sentenced to seven years in prison for manslaughter, which was later reduced to five years. He was released in 1983 and committed suicide by carbon monoxide inhalation two years later.
Despite his short career in politics, Milk became an icon in San Francisco and a martyr in the gay community. In 2002, Milk was called "the most famous and most significantly open LGBT official ever elected in the United States." Anne Kronenberg, his final campaign manager, wrote of him: "What set Harvey apart from you or me was that he was a visionary. He imagined a righteous world inside his head and then he set about to create it for real, for all of us." Milk was posthumously awarded the Presidential Medal of Freedom in 2009.
Check our blog this month to see who the next icons are and make sure you sign up for our newsletter to get alerts about local LGBTQ community events and globally recognized holidays and important actions.
Sign up for our newsletter here!