The Pride Awards Gala is fast approaching and we are ready to announce the four recipients for this year's event. You won't want to miss the opportunity to celebrate the 50th anniversary of the Stonewall Riots. Meet the awardees and get your tickets today!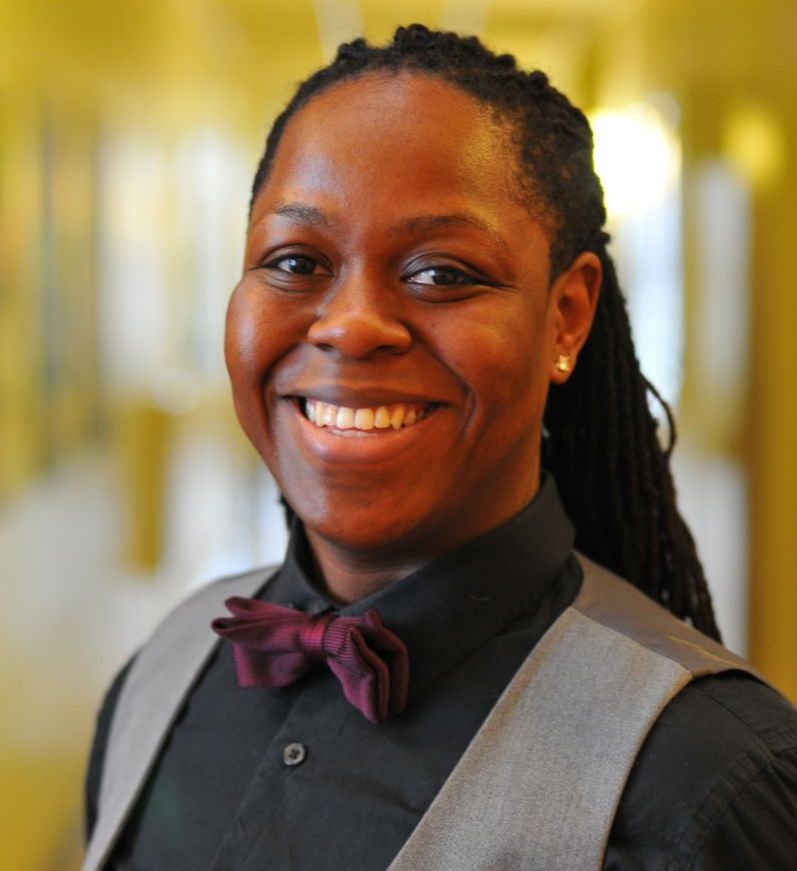 Awardee:
Jane Ama Mantey, Ph.D.
Jane Ama Mantey, Ph.D. has been a Sacramento resident for five years, spending her professional time institutionalizing environmental justice in state government and personal time within the Sacramento area organizing for racial equity, renters rights and protections, and public health and safety alternatives to policing and incarceration. Mantey joined the California Department of Toxic Substances Control (DTSC) in April 2018 as Deputy Assistant Director in the Office of Environmental Justice and Tribal Affairs.
She co-founded the Sacramento Tenants Union in 2017 to address the rising rents and mistreatment of renters as well as bring attention to the subsequent housing insecurity and homelessness crisis. Along with her comrades, the Sacramento Tenants Union has helped Sacramentans to halt evictions, obtain long overdue maintenance service, challenge unjust fees, and become more educated about the local and global housing crisis.
A two-time HBCU alumnae, Mantey lives with her wife, Jeanelle Hope, Ph.D., and two dogs in south Sacramento.
Awardee:
Pablo Sarmiento FNP-BC
Pablo Sarmiento is a family nurse practitioner at Kaiser Permanente working in the Department of Medicine subspecialty of Infectious Diseases. He is responsible for the organization's HIV care program and collaborates with Kaiser's Infectious Disease specialty physicians at both in Sacramento and Roseville. Originally from Spain, Sarmiento completed his graduate studies in 2010 at Samuel Merritt University in Oakland, California. Since then, he has been practicing as a family nurse practitioner with a primary focus on primary care and infectious disease subspecialty,  HIV prevention, and  supporting the HIV positive, transgender, and underserved Latino communities.
Awardees:
Bethany Snyder and Kris Maul
Bethany Snyder and Kris Maul are a queer couple living in Roseville, with their amazing 8-year-old kiddo and adorable Chiweenie pup. The Snyder-Mauls moved to California in 2016 from Minneapolis, Minnesota, to be closer to extended family and soak up more sun.
They plugged into the LGBTQ+ community in the Sacramento area right away, focusing on strengthening connections for LGBTQ+ parents and growing the Sacramento Area Rainbow Families group from under 100 people to nearly 800 members!
They have both served on boards and in leadership roles for several national and local LGBTQ+ organizations, including the Family Equality Council and The Landing Spot. When they aren't building community through their volunteer efforts, Bethany is an advocacy and communications consultant, helping her clients harness their people power, and Kris works in the legal department for an online education company.
Awardee:
Drag Queen Bingo
The local fundraiser known as Drag Queen Bingo reaches a $250,000 milestone this year!
Over the last decade, funds raised by Drag Queen Bingo have gone on to support non-profit organizations each month, ranging from the Sacramento LGBT Community Center, Davis Pride, and WEAVE to the Sacramento Gay Men's Chorus, West Sacramento Historical Society, and the Gender Health Center.
Since 2015 the monthly event has been produced by Sacramento Rainbow Chamber of Commerce volunteers and we could not be more excited to honor them this year at our annual Pride Awards Gala!
Honor these amazing community members!
Tickets are selling fast and you won't want to miss this event!
---
---
What excitement awaits?
This annual gala is the perfect opportunity to meet leaders of your community and honor those that have made significant contributions to the local LGBTQ+ community. But also . . .
Enjoy a delightful three-course meal
Signature open bar cocktails
Performances and a tease to the Lip Sync Battle planned to happen at SacPride
Bask in the opportunity to bid on custom-tailored prizes & experiences (all of the proceeds go directly to the Sacramento LGBT Community Center!)
Did we mention we are auctioning off a

Meet-and-Greet with LIZZO

?
So, don't wait, GET YOUR TICKETS NOW!